Piano for Preschoolers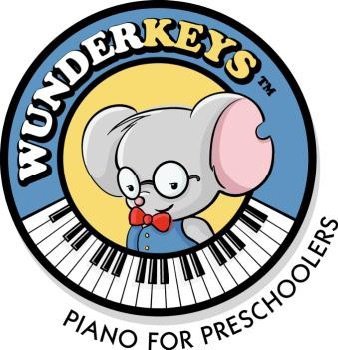 Click here to schedule a 15 minute telephone consultation to see if Wunderkeys is right for your child.
I'm proud to offer Wunderkeys – a unique program for preschoolers ages 3 to 5.
An encouraging first experience in music lessons is critical to your child's enjoyment of the piano. The WunderKeys Program has been designed to be that and more! WunderKeys lessons are tailored to meet the needs of preschool-aged children and to ensure that their first music lesson experience is positive and enjoyable.
Designed as an all-encompassing piano lesson, students participate in five different unique activities during their lesson time, ensuring they remain focused, engaged and happy.
Throughout the 3 book series, your child will develop piano and music skills that will allow for a smooth transition into mainstream piano method books. Beginners in this program start with no prior piano or music experience and finish with solid keyboard awareness, an understanding of rhythmic notation, and the ability to play simple pieces with both hands.
Practicing at home requires no prior musical knowledge on the parent's part.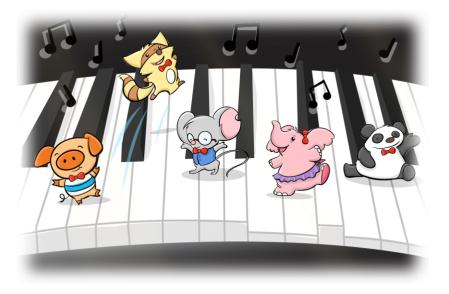 Easily laid out homework sheets guide you and your child through several fun activities each week designed to both reinforce what was learned in the lesson and create "bonding on the bench" time at home.
During WunderKeys lessons, your child has the opportunity to participate in fun activities both on and off the piano bench, which have been created to build confidence, increase enjoyment and solidify important music and math concepts. These activities include: musical math songs, patterning activities, finger poem exercises, book work, and music card games.
We use songs, games, and fun manipulatives to keep your child engaged and begging for their next lesson!
IS MY CHILD READY FOR WUNDERKEYS?
Readiness for piano lessons can vary widely among 3-5 year olds. Consider the following when assessing whether your child is ready to begin piano lessons.
If you find you are answering "no" or "not quite" to many of these questions, it is suggested that you wait a few months before beginning WunderKeys piano lessons.
Little ones develop and change rapidly! WunderKeys is designed to help them grow and learn, and creates the most feelings of success when children begin lessons once they are able to do most of the tasks listed.
It helps children to appreciate music and explore their own creativity in an atmosphere of support and encouragement, while building a strong musical foundation. Many of the concepts overlap with the principles of math they will be learning in kindergarten and they don't even realize they are learning- it's such fun!
Jane Saunders
The program is extremely enjoy-able which keeps kids interested and excited about learning more.
Kimberley Gent
This simple, half hour weekly class will aid in empowering him when it is time for kindergarten. I asked Aidan how he felt about his piano lessons and he said "I want to take piano lessons until I am one hundred." He is so proud of his ability and accomplishments with each lesson and home practice.
Katrina Grounds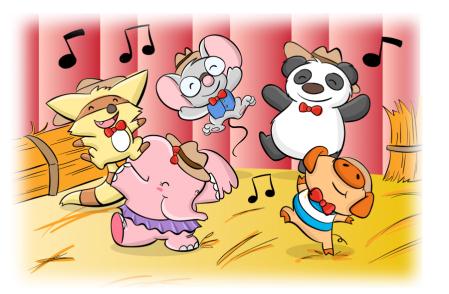 The developmental abilities of 3-5 year olds are very different than that of 6 year olds and older… for which most other piano programs are created. There are many different concepts that your preschool students need to grasp before jumping into a "traditional" piano piece. Therefore, our preschool piano lessons are spent exploring the piano in ways in which they are capable. All lessons are geared towards having them understand everything they will need to know before being able to read notated music. It is the perfect way to lead into a mainstream book series… and a life of musical enjoyment.
For many students beginning the WunderKeys program, this is their first experience one-on-one with an adult other than their parents. It's their first opportunity to be independent, to feel as though they have ownership over their own learning, and to feel pride in their individual accomplishments. The program is designed to foster feelings of confidence, self esteem, and the joy of learning.
Let's chat about how WunderKeys can help your Preschooler grow their confidence, self esteem and their love of music.
Call 503-714-1198 today or Click here to contact me and schedule a complimentary 15min phone consultation and trial lesson.
Engaging, Kind, Understanding, and Informative
We've been searching for a piano teacher for a few months. We knew we wanted our son to experience lessons and develop an early skill set for music but we also knew we needed a teacher who understands the needs of young kids and loves teaching them. But it's so hard to find a teacher who is passionate about 4 year olds AND has a schedule that accommodates working moms.
Most of the teachers I found could only do mid-day appointments.
Deanna is engaging, kind, understanding, and informative. She connected with Tommy immediately and had a teaching style that is clear and direct. She also was able to vary activities in a way that allowed Tommy to focus and feel successful.
Could not recommend her highly enough!
Deanna is FANTASTIC! We honestly went to another piano teacher with our son previously and he was not engaged. She is patient, energetic and consistent – he is SO excited every time it is lesson day. Could not recommend her highly enough!
Deanna's a Confidence Booster
Before studying with Deanna… I was less confident overall in my singing, my voice cracked in a lot of places and my range was a bit narrower. The most difficult part about that was singing in front of others and not being quite sure what notes were going to come out of my mouth.
The thing about Deanna is that she is very welcoming, supportive and makes you feel comfortable. My biggest insight learned during our lessons was that it is possible to get my voice to be more predictable, the importance of proper breathing and that it really is helpful to record and listen to your own voice. And this was valuable because it's a confidence booster especially during performances.
I gained confidence, comfort and knowledge about singing. I'd recommend Deanna to singers that want to stretch the current limits of their voice and feel more confident singing. Thanks so much for this great experience!
We Love Her!
My 4-year-old son has been taking lessons with Deanna for the past 6 months. I am a preschool teacher. I was immediately impressed by how Deanna was able to connect with my child and work with him with such calmness and ease.
My son tried many different classes and has had many different instructors. Deanna has by far been his favorite instructor and he is always excited and ready for class.
The program she uses is wonderful, it introduces children to sequencing and patterns, fine motor skills and development and so much more. I highly highly recommend classes with Deanna. We love her!
Terrific job connecting with my son
My 10 year old son started taking piano lessons with Deanna Maio at Confident Voice Studio a couple of months ago, and she has done a terrific job connecting with him and helping him advance his piano practice. We highly recommend Deanna!
He races through the door to begin the lessons
From the get-go Deanna's been a great piano teacher to our 5 year old and each week he races through the door to begin the lessons. It's only been a few months but we can sense his growing understanding of how the piano works. Anyone who helps my kid (or anyone's kid) learn to play and love music gets 5 stars.
She helped me find my true voice
Before I worked with Deanna my singing voice did not feel natural. She has helped me find my true voice.
Deanna is that she is keenly focused on your particular needs as a singer, and is able to assist you in reaching your particular goals.
Working with Deanna, I gained confidence, strength of voice, as well as greater range.