Our Location
2240 SE Hawthorne Blvd. Portland, OR 97214 Our Contact Information Phone: 503-714-1198
Click Here to Email
Our Front Desk checks studio voicemails and emails Monday through Friday.
Best of 2019 Portland: Music and Performing Arts School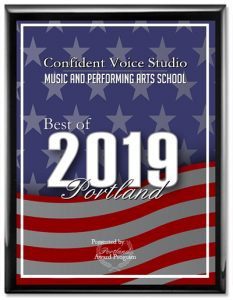 Raving Fan Reviews
Deanna's a Confidence Booster
Before studying with Deanna… I was less confident overall in my singing, my voice cracked in a lot of places and my range was a bit narrower. The most difficult part about that was singing in front of others and not being quite sure what notes were going to come out of my mouth.
The thing about Deanna is that she is very welcoming, supportive and makes you feel comfortable. My biggest insight learned during our lessons was that it is possible to get my voice to be more predictable, the importance of proper breathing and that it really is helpful to record and listen to your own voice. And this was valuable because it's a confidence booster especially during performances.
I gained confidence, comfort and knowledge about singing. I'd recommend Deanna to singers that want to stretch the current limits of their voice and feel more confident singing. Thanks so much for this great experience!
Mural N.