Kidzrock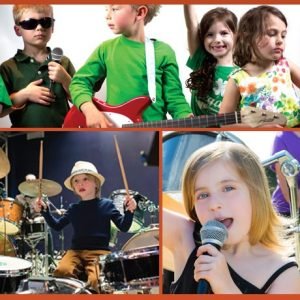 Your child might be too young for lessons.  They aren't too young for Kidzrock! 
Kidzrock is a nationally acclaimed music program that teaches ages 4-7 how to play an instrument in the setting of a rock band.
A whole new age group can now experience the thrill of performing to a cheering crowd.
Students in Kidzrock learn how to play drums, electric guitar, and keyboards as they prepare to play in a real rock concert! The fun rock band format and performance helps kids fall in love with music and feel good about their abilities.
Contact us today to learn about special savings for new clients!
What Your Child Will Learn:
The basic mechanics of guitar, drums, and keyboards

How to read and play notes on the treble and percussion clef

Improvisation

Singing on pitch

Musical dynamics

Musical terminology

How to play in a rock band

How to rock out!
Confident Voice Studio is the ONLY school in Oregon to offer Kidzrock.
Kidzrock Band tuition is just $115.00 per month for weekly lessons, all learning materials, and includes 4 performances a year (optional but recommended) 
Contact us today to learn more and schedule a no-obligation trial class. 
NOW OFFERING KIDZROCK PRIVATE
Kidzrock Private is private lessons for your 4 to 7-year old using the materials and concepts from the Kidzrock band curriculum. Students can take private lessons on Guitar, drums, piano, singing or they can do all of them just like the group class.
You do not have to be enrolled in the Kidzrock band to take private lessons. You can purchase the Kidzrock modified guitar at the Confident Voice Studio and all materials will be provided. There has never been a better way to get your young child involved in music! This is a great program for people who can not attend a Kidzrock group class due to scheduling.
Kidzrock Private tuition is $135.00 per month for weekly 30-minute lessons. 
Contact us today to learn more and schedule a no-obligation trial class.