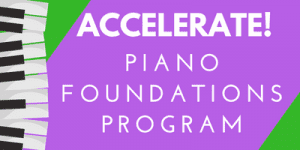 Introducing
Accelerate!
Piano Foundations Program
At Confident Voice Studio our desire is to see kids excel in their music, have fun at the keyboard, and actually ENJOY playing at home each day.
Each week, 40+ students come to see us… and each week, we help them understand and enjoy music a little bit more. Kids and adults love coming here, and we make the entire experience convenient and pleasant for parents.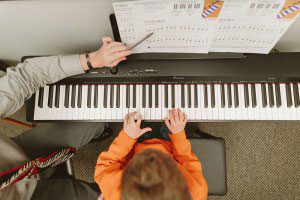 Our goal is to help students have fun and see music as a game. Our experience has shown us that the best way to motivate someone is to make the learning process feel easy.
This has been the key to unlocking potential that my student's didn't even know they had!
The vast majority of my students move through their books at a faster rate than the "average" time that the publisher suggests it should take – and I believe it is directly connected to the exploratory and creative environment we create in our lessons.
We do that with our Accelerate! Piano Foundations Program. The purpose of this program is to address the #1 problem that piano students have…
The difficulty of home practice.
Many children dread home practice for one reason: It takes too much work.
We simply do not have the time to practice with repetition, or to drill those tough parts, in the lesson.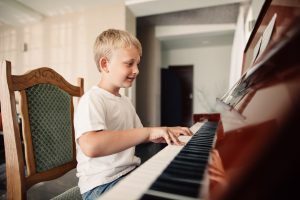 This is true of most piano studios and music schools in the U.S.  There is just so much to do in 30 minutes. 
I am solving this problem once and for all in our studio with Accelerate!
The Accelerate! curriculum:
Lasts for one hour each week

Has been shown to dramatically improve a student's sightreading skills…. this is the #1 skill that students need to learn music quickly
Helps students move through their books faster
Allows the student to learn more music each week… this translates into faster completion time
Includes proven practice techniques so home practice is all about review and increasing speed – less tedium = more fun at home.
Includes some amazingly fun review games…I'm a little jealous that I wasn't able to do this as a kid!
Will minimize your need to supervise practice at home
Can take a student as far as they want to go – and can explore many different styles or types of playing (i.e., improv, songwriting, modern, classical, etc.).
Students Learn:
Healthy Playing Technique

Music Theory and Notation

Rhythm

Sight Reading

Memorization

Ear Training

And Much More
The Investment:
Tuition for the Accelerate! Piano Foundations program is all-inclusive.   There are no hidden fees for books, recitals, learning materials, flashcards, etc. Members get all of our studio member benefits.
Including:
Your teacher is present and prepared to teach 36 lessons over the year
All learning materials, books, supplementary repertoire, sheet music, practice tracks, and more are included (saves $100+/year)
No need to cancel for major holiday weeks. We're closed so you don't have to cancel and "lose" a lesson.
You have a reserved lesson time which makes scheduling easy
No recital, concert, or performance fees (saves you $100+/year)
Participation in our performance parties/recitals, recording projects, and community concerts
Unlimited messaging with your teacher between lessons for questions or help
Practice timer and reminders through our online client portal
Optional scheduling reminders by email and text
Special savings other studio programs and lessons
Individual lesson planning and preparation
$50 credit when your friends and referrals enroll
No long term semester or annual commitments – cancel anytime
And so much more…
How Do I Enroll?
Have questions? We have answers. Just schedule a quick discovery phone chat to learn more, see if it's right for you.
Ready to give it a try?  Schedule an Initial Fit Trial Lesson. It's part studio tour, get to know you, lesson and skill assessment and next step recommendations.
Students learn the 7 basic facts that they need to play music… and then learn actual songs within 15 minutes. It's very exciting and motivating for a new student to see how quickly they can learn music! Schedule your initial fit lesson today!