Now Accepting Students Worldwide or Locally in Portland, Oregon
Do you struggle with high notes?
Has your range diminished?
Is your "Break" keeping you from singing how you'd like?
Are you experiencing vocal fatigue?
Are you frustrated with your current progress?
Do you KNOW you can be a better singer but just can't get there? I can help.   
Why Confident Voice Studio For Voice Lessons?
Customer Satisfaction:
With many options for voice lessons in Portland, Confident Voice Studio is consistently voted #1 by our customers. Our teachers, location, involvement in the community, business philosophy and our focus on serving our customers are just a few of the things that we believe contribute to earning that place in our customers' minds.
Community:
At Confident Voice Studio, you are not simply signing up for private voice lessons. Rather, you are joining a community that is all on the same mission together: to inspire a growing community of passionate and excellent musicians! We create this community atmosphere based on some core principals: • Everyone has value and should be accepted, included, encouraged and affirmed through their interactions at Confident Voice Studio. • We must challenge each other to continually grow, develop and improve through focus, hard work and practice, AND • We must be honest and kind to each other at all times. This idea of 
community
 is central to who we are as a company and how we interact with our customers. It is also key to helping us serve our students in a way that 
builds confidence, social skills, coordination, work ethic, personal responsibility
 and, of course, a 
love for and ability to play music
.
Facilities:
Our studio is stocked with everything students need to create a great learning environment. From inspiring posters, to music stands, mirrors, whiteboards and a keyboard, we make sure to have a comfortable and safe space for lessons to take place. We maintain an open door policy with parents who want to sit in on a lesson from time to time.
How Do Voice Lessons Work At Confident Voice Studio?
Once scheduling is out of the way, it's time to rock. You will meet with your teacher once a week at the same time each week for 30, 45, or 60 minutes, depending on which you select. Our favorite lesson length for most students is 45 minutes because it allows time for building a relationship, warming up, reviewing what was learned in the previous lesson and providing new instruction. Thirty minutes is great for younger students and an hour-long lesson is great for more advanced students who are interested in accelerating their progress. We offer several music lesson options. These various packages offer options to our customers to match their needs related to schedule flexibility, pricing and commitment.
What Will I (Or My Child) Learn?
At Confident Voice Studio, students will learn to train their ear, expand their range and find their own unique tone. We offer training on how to properly use your voice to get the best sound and avoid injury. Every voice is different, so lessons are tailored to individual needs in order to develop the voice to its full potential. We understand that voice lessons can be scary, so we work to learn about who you are, what you want and how to best help you learn. You will spend your lesson time on a mixture of warmups, exercises and learning songs you enjoy to help build your repertoire. Many of our voice students use this time to prepare for upcoming auditions, performances, or simply to continue to develop their talent.
How Do I Sign Up?
If you would like more information about our voice lessons, 
CLICK HERE
 and tell us a bit about you. Someone from our team will contact you to find out more about your needs and match you with a time that works best for you.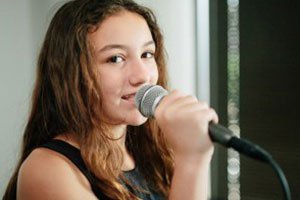 Come see why we have been voted one of the Top 19 voice teachers in Portland!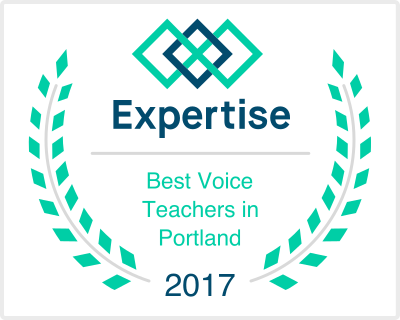 For Voice I teach:
-through the Singing Lessons for Little Singers, the Full Voice book series, the Blaylock Vocal Method, and my own curriculum
-vocal technique: understanding how your voice works and building strength, range, flexibility, and good vowels
-ear training: I work with kids to hear pitch and have good vocal tone and musicality
-sight singing: I teach through solfege to be able to hear intervals and then to be able to sight
read notes on the staff by ear
-practice: I work with students on how to prepare a song and practice efficiently
-performance: I teach students how to perform confidently and with ease
You'll Learn
How to breath properly so you never run out of air
The science of vocal chords
How to keep your voice healthy and strong
Eliminate your break
Have a connect voice from your lower register to your highest note
Expand your range
Sing different styles of music
Mouth positioning tips & tricks
How to perform the song and be believable
Advanced breathing techniques
Developing stage presence
Microphone techniques
Choosing great materials
Connecting with an audience
And Much More…
Utilizing the Blaylock Vocal Method and other vocal training techniques will maximize your vocal abilities in any style of singing. From Opera to Rock; Jazz to Pop or R&B, speakers, teachers and actors have improved their vocal presence. Training with the Blaylock Vocal Method will both improve your voice allowing you to sing safely and with greater range, no "cracks," "breaks," or losing strength in the middle connection. It's a way of using your voice that allows you to sing freely and clearly with maximum power and clarity. Since you are not learning what to sing but rather how to sing and maintain an even balance through your voice, you can apply this technique to any type of music.
Get Help Now No Matter Where You Live! Call 503-714-1198 today or Click here to contact me and schedule a free consultation.